I've already declared my
love for Windows 8.1
, and got used to the fact that the Start menu, as we've always known it, is no more. I find the Apps screen pretty much fine to work with (certainly better than the Start screen), but there are still times when I miss the ease and speed of launching programs from a Start menu on the desktop.
If you can't get on with the Start screen in Windows 8, and the Apps screen in 8.1 doesn't really appeal, there are plenty of alternative Start buttons and menus available to download, either for free or a nominal amount. One of the most popular free choices is the freshly updated
Classic Shell
.
The new release candidate officially supports Windows 8.1 RTM so if you've downloaded and installed this -- either from Microsoft or through another means -- Classic Shell will work just fine with it.
Other changes in the 3.9.5 release candidate include:
Added animated menu transitions for the Windows 7 style.
Added status bar for Explorer in Windows 8 and Windows 8.1 to show the total size of the selected files and the free disk space.
Improved hovering functionality for the Start button.
New feature allows administrators to modify the default settings without locking them.
When you install Classic Shell you'll be presented with the option to install four features -- Classic Explorer, Classic Start Menu, Classic IE and Classic Shell Update. You can choose which elements to include, depending on your views on Windows 8 or 8.1. For ease, you could just install them all, and remove any unwanted items later.
Once installed, clicking the Windows 8.1 Start button will open the Classic Start Menu settings. From here you can choose a style for the Start Menu -- Classic, Classic With Two Columns or Windows 7 style. This last one is automatically selected for you.
You can replace the default Start button with alternative options and make lots of configuration choices. There are 13 settings tabs to explore, including Controls, Main Menu, General Behavior, Search Box, Menu Look, Skin, and Windows 8.1 Settings.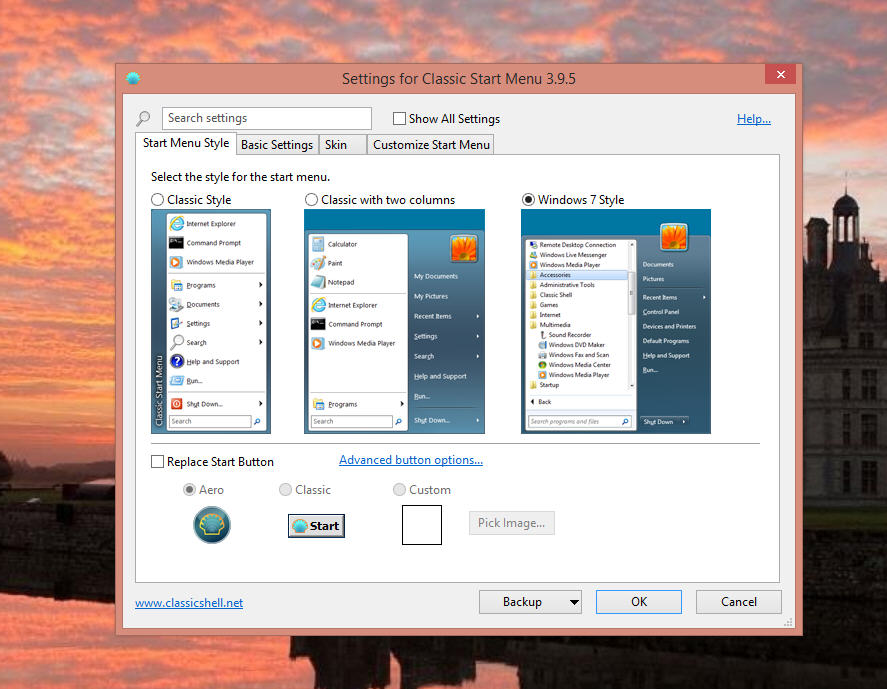 Once set up, clicking the Start button will open a menu just like in earlier versions of Windows, and you need never see the Modern UI again (although there's an option to launch the Start screen at the top of the new Start menu).
If you want to revert back to the 8.1 Start screen at any point, you can just right-click the Start button and exit Classic Shell.
Source:
http://betanews.com/2013/09/17/get-the-start-menu-back-in-windows-8-1-rtm-with-classic-shell/